We're proud to announce the successful sale of 2638 Fulton Street - a classic 1920s single-family home boasting period charm and elegance within San Francisco's Inner Richmond neighborhood. This 4 bedroom, 3.5 bath home, spanning three levels and over 3,000 sq ft of living space, underwent a substantial transformation, taking several months of Artemis' oversight to complete. Combined with our eye-catching marketing campaign, an offer was presented within hours of our first open house, and the home sold for well over the asking price-- all while we faced bank failures and tough macroeconomic headwinds.
Check out the before and after photos to see the incredible transformation for yourself! To maximize equity for the seller, our task was to restore and bring out the home's gorgeous original 1920s-era details while updating the spaces for today's modern lifestyle.
BEFORE - AFTER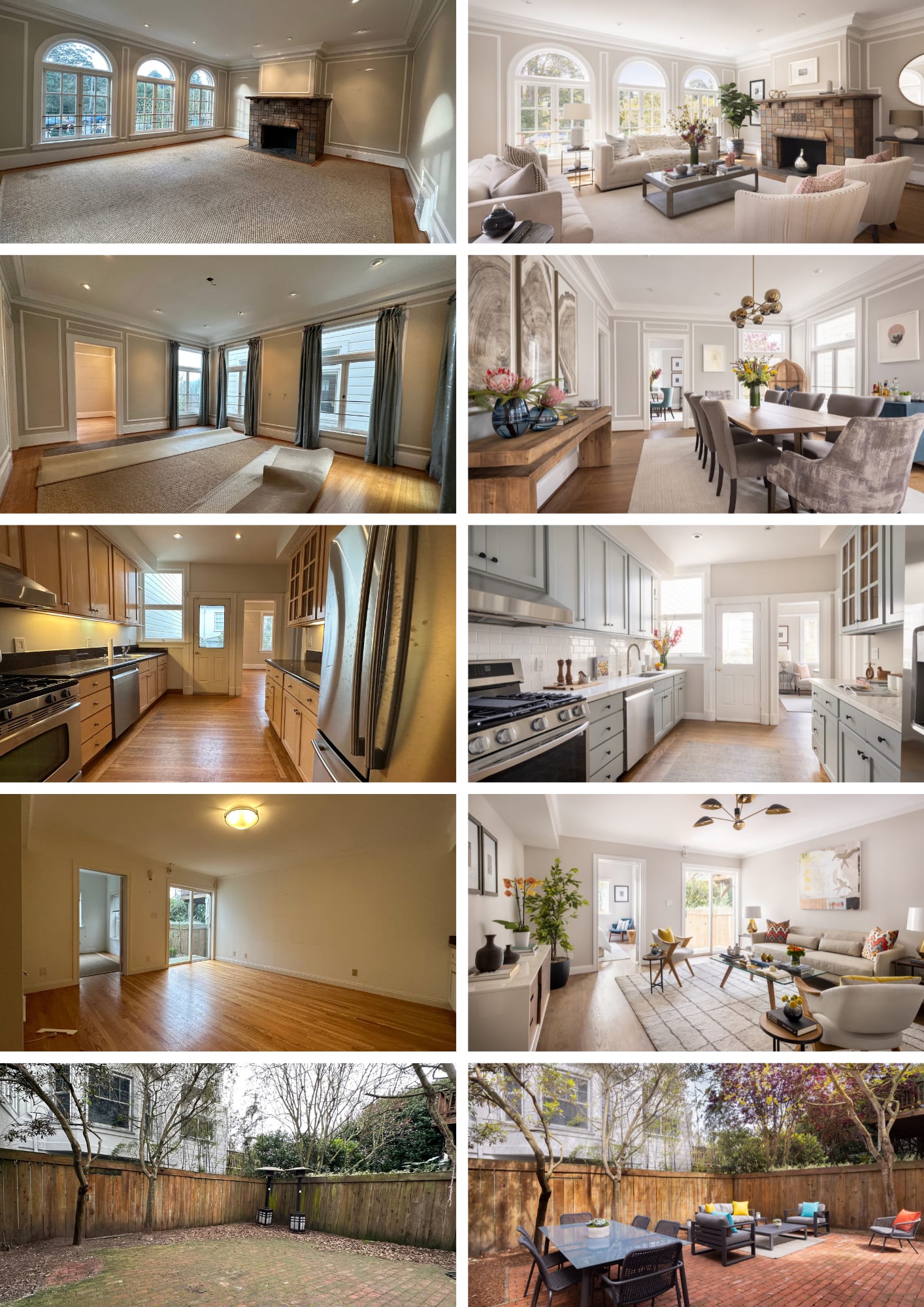 Throughout our many years of experience, we've built a team of highly-skilled real estate specialists, designers, service providers, and artists that help us transform homes like these into upscale and sophisticated products that create emotional appeal with buyers. Some of the upgrades we oversaw included:
Sanding and refinishing the hardwood floors to a contemporary finish
Painting the interior and exterior in a gorgeous designer-chosen color palette
Installing new stylish light fixtures throughout
Replacing the carpet in key areas as a stylish accent, for example, the runner on the main staircase
Installing new counters, faucets, and cabinet hardware in the kitchen and bathrooms
Upgrading to new appliances in the kitchen and tiling the backsplash
Tailored professional staging, accessories, and floor coverings
Impactful artwork that suited the home's color and architectural style
Updating the landscaping, including power-washing the brick patio, to create an inviting and relaxing space
Strategic pricing is also a key ingredient to a successful listing. With a former appraiser boasting 20+ years of valuation expertise on the team-- building sophisticated pricing models for our clientele-- we were able to position the home competitively in the marketplace, removing fear and doubt for our sellers that they were too aggressively underpricing, overpricing, spending too much money on improvements, or leaving equity on the table. Being able to identify the sweet spot for pricing is a huge advantage.
And let's not forget our talented marketing team, who created dazzling photography and visual elements to be the centerpiece of our marketing campaign. Our photographer works exclusively for Artemis -- so if you want "the look," you know where to go!
The end result? We listed the home for $2,795,000 and sold it in just a couple of days to an all-cash, quick-close buyer for $3,000,000.
Click here for more info on 2638 Fulton Street in San Francisco.
If you'd like to learn more about the selling process and how we can help recreate these types of results for your home, please contact us at (415) 891-7770 or [email protected]. We'd love to help!