San Francisco is a place like no other. This electric city is packed with a variety of neighborhoods, each with a unique personality and attractive attributes. When you're ready to pack your bags and make the move to San Francisco, it can be hard deciding on the best neighborhood for your family. We're here to help give you an insider's look into 12 of the city's most sought-after neighborhoods.


1. Sunnyside
Founded as a district in 1891, the idyllic neighborhood of Sunnyside is nestled in south-central San Francisco. The homes found here were primarily built between 1900 and 1941 and feature a variety of architectural styles. During a drive through this cozy and charming neighborhood, you'll see everything from Victorian structures to stucco homes in both detached and row house style. Sunnyside is also home to the City College of San Francisco, which is located on the southwestern corner of the neighborhood. There are plenty of options when it comes to dining, shopping, and entertainment. Explore Monterey Boulevard for a fun evening out on the town, tasty eateries, and local shops.


2. Westwood Highlands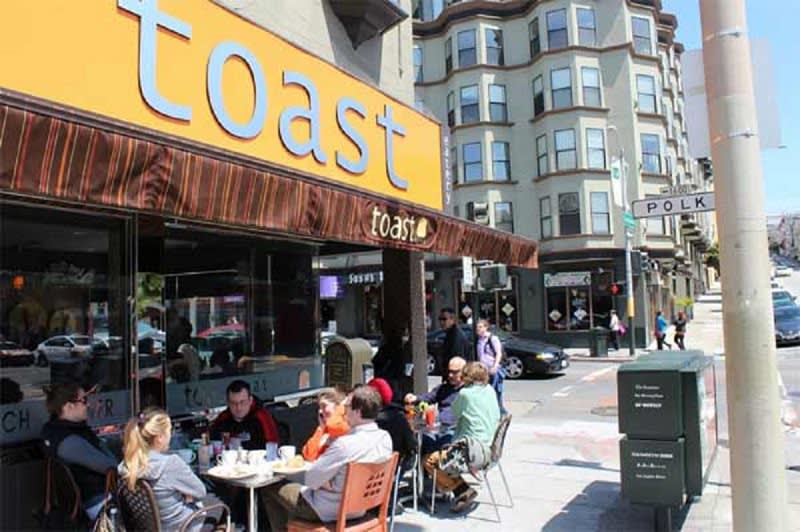 Credit: Urban Dining Guide

Westwood Highlands is an affluent, tight-knit community situated next to Sunnyside. Those lucky enough to live here experience the finer things this city has to offer. The majority of houses found here are three to four-bedroom homes situated on spacious parcels. With a population of just over 600 people, the residents of Westwood Heights enjoy a small-town feel with all the big city conveniences right next door. But life here is far from boring! Residents can enjoy a variety of things to do, including parks, bars, restaurants, shops, and coffee shops. Head on over to Toast Eatery for weekend brunch or to grab a quick lunch to go. This locally-owned shop is a favorite among residents!


3. Sherwood Forest
Sherwood Forest comprises two by three streets, officially making it the city's smallest neighborhood. But that doesn't mean this cozy community doesn't have plenty to offer! Located between St. Francis Wood and Miraloma Park, Sherwood Forest features about 200 homes. Development started in this neighborhood in the 1930s, and Sherwood Forest has since developed the small-town feel it has today. Many noted architects built homes here, including Julia Morgan, Timothy and Milton Plueger, and Harold Stoner. Here you will find jaw-dropping ocean views, mid-century homes, and a quiet, laid-back lifestyle.


4. Forest Hill Extension
As one of San Francisco's most sought-after neighborhoods, Forest Hill Extension is the type of place where you know your neighbors. This small, quiet community is located adjacent to Forest Hill. Known for shady, tree-lined streets and illustrious homes, this neighborhood could hardly be more picturesque. Here you will find an array of architectural styles and single-family homes, including Spanish Mediterranean and Craftsman-style homes. Plenty of parks and green spaces, as well as close access to nature, make this area perfect for outdoor enthusiasts. Forest Hill Extension is home to residents from all walks of life, ranging from commuters to young families to nature lovers.


5. Forest Knolls
Although Forest Knolls is centrally located, this quintessential neighborhood feels like an escape from the hustle and bustle of the city. This desirable neighborhood offers residents a peaceful suburban lifestyle with easy access to nature at your fingertips. A drive through Forest Knolls displays a diverse range of architectural styles — one of the most popular being mid-century modern. The charming West Portal street is available for all of your shopping, dining, and entertainment needs. Spend a sunny afternoon — or even a foggy day — hiking Mount Davidson. Here you can get your heart rate pumping during this exhilarating hike and marvel at the scenic views of the city below.


6. Monterey Heights
Monterey Heights is an upscale residential neighborhood located on a hill north of Monterey. This elite neighborhood is known for its sophisticated homes on spacious lots and perfectly manicured front lawns. An array of architectural styles are represented here, allowing buyers to select the style that best fits their preference. A stroll through Monterey Heights reveals everything from Mediterranean villas to Tudor estates. Families make up the majority of this peaceful, comfortable neighborhood. With a population of just under 1,000 residents, Monterey Heights exudes a small-town feel and offers an escape for those who prioritize a laid-back lifestyle. But Monterey Heights' convenient location also offers easy access to all of life's essentials.


7. Miraloma Park
Miraloma Park is one of the city's most desirable neighborhoods — and it's not difficult to understand why. Surrounded by seven neighborhoods, its prime location gives residents a plethora to do in every direction. Miraloma Park is built on the hilly slopes that make up San Francisco, resulting in some of the most stunning views in the city. Despite being an active and vibrant community, Miraloma Park still retains a tranquil ambiance with plenty of access to outdoor green spaces. Explore the popular hiking trails in the nearby Glen Canyon Park and spend time connecting with the great outdoors. If you're looking for somewhere to enjoy an evening out with friends, you have plenty of options. Miraloma Park is closely located to commercial hubs and public transportation lines, giving you easy access to other parts of the city.


8. Diamond Heights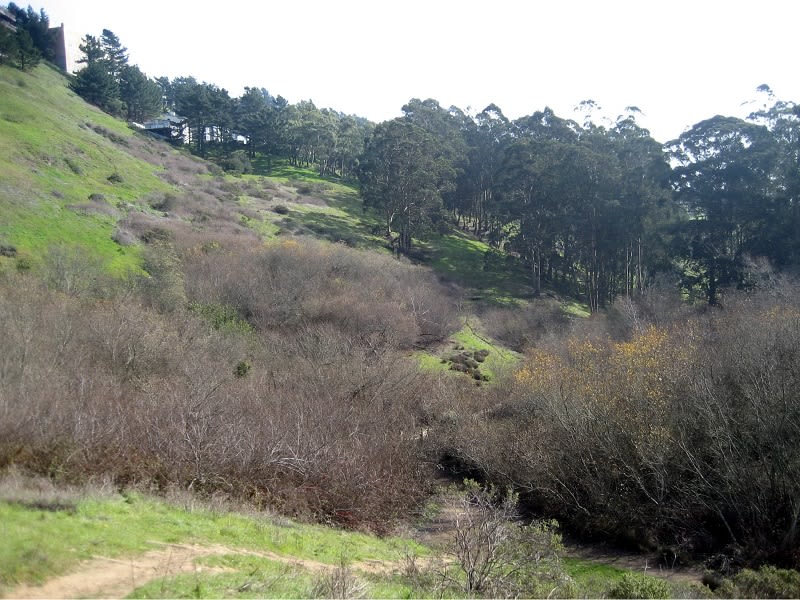 There's no question Diamond Hills is one of the most naturally beautiful neighborhoods in the city. Here you'll find luscious grassy hills, wooded areas, and inviting residential streets. Living here in central San Francisco makes getting to other parts of the city a breeze — and it's just four miles to downtown. This fashionable, family-oriented neighborhood comes with nearby metropolitan conveniences and an abundance of natural beauty. Glen Canyon Park, which takes up a large part of the neighborhood, stretches over 66 acres. Residents and visitors alike come here year-round for hiking trails, sports fields, playgrounds, and community events. If you're ready to shop until you drop, head over to the Diamond Heights Shopping Center and browse everything from high-end designer stores to local boutiques.


9. Laurel Heights
Known for being a quiet and elegant neighborhood, Laurel Heights is located at the foot of Presidio. This affluent neighborhood is bordered by the University of California San Francisco campus to the east and the University of San Francisco to the south, giving this area a younger crowd. This refined neighborhood boasts a number of Victorian homes and a family-friendly feel. Foliage-lined streets and upscale homes further elevate the status of living here. Young families and college students enjoy plenty to do and see on the exciting Geary Boulevard. Shops, restaurants, and stores line this street, as well as the Laurel Village Shopping Center. If you're looking to go out for a memorable night on the town, you can get your fix on the nearby Clement Street.


10. Dolores Heights
Dolores Heights is appreciated for its beauty, both natural and architectural. This hilly neighborhood features steep staircases, stunning scenic views, and vividly colored Victorian homes. But that's not all! You might be surprised to learn this neighborhood is considered one of the sunniest spots in the city thanks to the Twin Peaks, which block wind and the usual fog.

Dolores Heights is surrounded by The Castro to the North, Noe Valley to the south, Upper Market to the west, and Dolores Park to the east, giving residents an endless array of things to see and do. Although residents from all walks of life reside here, Dolores Heights is an especially popular place to call home for young families and working professionals. Here you can spend time exploring the famous Castro Street or enjoy a picnic at the nearby Mission Dolores Park.


11. Ashbury Heights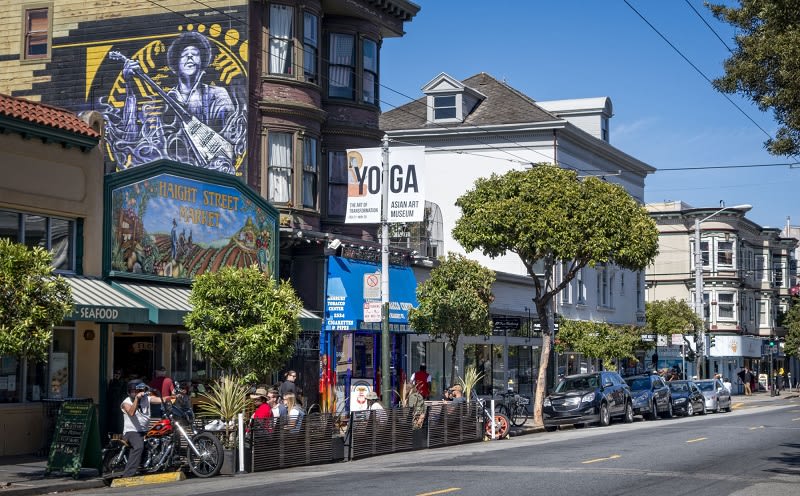 Credit: TripSavvy

Located at the top of a hill, Ashbury Heights is a quiet and classic neighborhood that offers unbeatable scenic views. This postcard-perfect neighborhood is the location of some of the city's largest and most exquisite homes. Magnificent Grand Edwardians and Victorians, modern homes, and apartments make up the housing options here. Spend a Saturday afternoon moseying through Buena Vista Park, the oldest part of San Francisco.


12. Russian Hill
Most people might recognize Russian Hill as the home of the famous Lombard Street. But this refined and bustling neighborhood has much more to offer than its iconic street. Here residents can enjoy picturesque views, a prime location, and an upbeat, urban environment. Russian Hill has a number of large single-family homes, including many colorful Victorian homes. Polk and Hyde Streets are there to meet all of your shopping, dining, or entertainment needs.
When you're ready to explore San Francisco real estate listings, contact Payton + Binnings today. As one of the most sought-after real estate duos in the city, Payton + Binnings serve a wide range of neighborhoods. Their expertise and dedication to clients will help you through the home buying process.